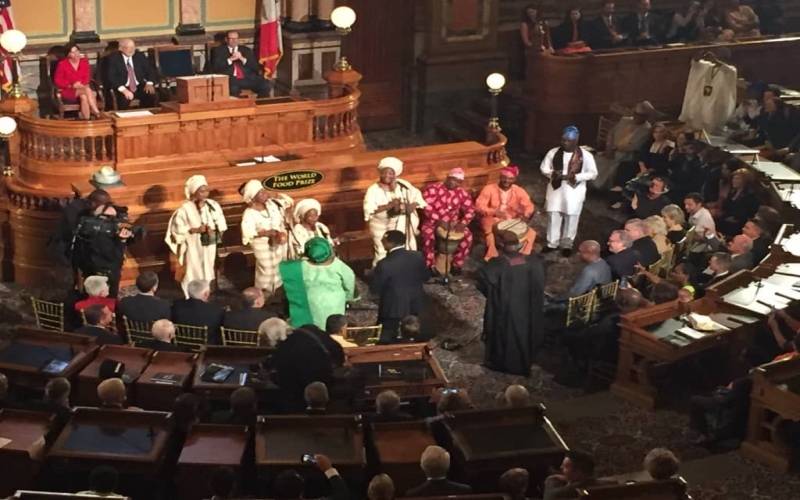 Folklore music genre varies from culture to culture. The African folklore music dates back as far as time.
In determining whether a piece of music is of the folklore genre, performers and enthusiasts would probably agree on several criteria ranging from mode of performance or rendition, patterns of transmission and delivery to its origins.
Folklore music is learned through hearing and not in formal institutions and is passed down from generations.
A good presentation of a folklore piece of music is that of the Adunni and Nefertiti group from Nigeria, performing at the World Food Prize, 2017. Dr. Adewunmi Adesina, was nominated and awarded the world food prize for his roles over the past two decades with the Rockefeller Foundation, at the Alliance for a Green Revolution in Africa (AGRA), and as Minister of Agriculture of Nigeria in 2017.
The beautiful rendition had His Excellency, the former president of Nigeria and Dr. Adesina with his wife, dancing to the rapturous, sonorous, and earthy rhythm of this piece of music.
The Yoruba indigenous music was flawlessly delivered at this event to an audience consisting of people from varied cultures and walks of life.
Folklore music captures the very essence of Cartehub, showcasing the richness, beauty and depth of Africa to the world.
Here is the praise 'Oriki' recited at the introduction of their performance at the World Food Prize Ceremony.
Dudu oh oooo,
Dudu mirimiri la wo,
Akinkanju ni wa ni le baba wa,
A o pe a o re le ajeji
Aje ju wa o, o fi ri o
Ba ba de ajo, a je ila fun fun,
A de ajo , a je abesun
Ire de o, okuka meta, e le wa ra
Translation:
Black
Shining black is the complexion
We are courageous in our fatherland
We did not say that we won't visit a foreign land,
The earth appeases us
Wealth is greater and that is the truth,
It was when we got to a foreign land, we ate white okra,
When we got to a foreign land, we ate to sleep.
Here comes goodness,
Three crystal stones unveiled.
Three crystal stones unveiled.
I've gone to Ibadan (repeated four times)
If you ask of me at home and I'm absent,
I've gone to Ibadan,
The home of Adesina Akinwumi
Watch video below: